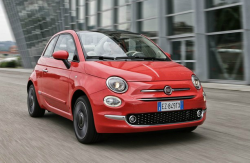 — Fiat Chrysler (FCA US) has issued two recalls for 53 vehicles after defects were found relating to tire pressure labels and loose tow brackets.
Fiat 500 Recall
Chrysler says 32 model year 2016 Fiat 500 cars have tire placards with incorrect tire pressure directions for the spare tires. The automaker says the spare tires have maximum pressure levels too high for the tires, making it easy for a consumers to overinflate the tires.
The recalled 2016 Fiat 500 cars were manufactured June 11, 2015, to July 27, 2016.
FCA says the Fiat 500 recall should begin October 28, 2016. Chrysler dealers will add an overlay on the tire placards to give consumers accurate maximum tire pressure levels.
Chrysler's recall number is S69 and with questions, Fiat 500 owners may contact the automaker at 888-242-6342.
Jeep Grand Cherokee Recall
FCA says 21 model year 2017 Jeep Grand Cherokee SUVs have dangerous defects with the rear tow hook or toe eye brackets that can come loose while driving, including while the Jeep is towing something.
A loose tow bracket can eventually detach from the Grand Cherokee and leave behind the bracket and anything attached to the bracket. You can use your imagination as to the disaster awaiting any vehicle traveling behind the Grand Cherokee if the tow bracket drops off the SUV.
Fiat Chrysler says the recalled 2017 Jeep Grand Cherokees were built August 8, 2016, through August 16, 2016.
The automaker says the recall is scheduled to begin on November 6, 2016, when FCA dealers will tighten both tow hook bracket bolts.
Owners of 2017 Jeep Grand Cherokee SUVs may call 800-853-1403. Chrysler's number for this recall is S73.
CarComplaints.com has complaints about Jeep Grand Cherokee SUVs and Fiat 500 cars.