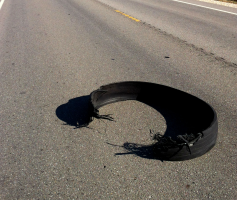 — Hitting debris in the roadway that dropped from other vehicles caused about 500 deaths and 200,000 crashes between 2011-2014, according to research from the AAA Foundation for Traffic Safety.
AAA gathered data from the National Highway Traffic Safety Administration road accident databases and counted the number of incidents that were caused by objects falling into the roadways.
AAA describes debris-related crashes as when a vehicle strikes an object that fell from another vehicle, when a vehicle hits a non-fixed object in the road and when a vehicle crashes after swerving to avoid an object in the road.
AAA didn't include crashes that involved live animals, trees falling onto vehicles, debris from a previous crash, construction-related debris in work zones and debris outside of the travel lanes.
Covered crashes were listed in police reports as items such as wheels, driveshafts or any parts that flew off cars, trailers that became detached and furniture that fell out of the back of a pickup truck.
The study results show road debris was a factor in an average of 50,658 police-reported crashes which caused 9,805 injuries and 125 deaths for every year between 2011–2014.
AAA says that compared with crashes that did not involve debris, debris-related crashes were approximately four times as likely to occur on Interstate highways. About 37 percent of the incidents were caused by drivers swerving to avoid objects and men were 20 percent more likely to hit road debris compared with all drivers involved in crashes.
Automakers often recall cars based on defects that can cause parts to fall away from vehicles and create hazards for other drivers.
Just a few recent examples include an August 2015 recall of 193,000 model year 2007-2014 CX-9 SUVs after owners complained the front wheels could detach from the SUVs.
Another recall from 2015 saw 2014-2015 Toyota 4Runner, Tacoma, FJ Cruiser, Land Cruiser, RAV4, Scion FRS and XB vehicles recalled because the running boards and other accessories could fall from the vehicles.
And in July 2015, Land Rover recalled 2012-2013 LR4 SUVs because the panoramic roof glass was dislodging and flying away from the vehicles.