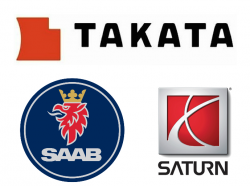 — General Motors has announced it is part of a recall of 5 million Takata airbag inflators that can explode and kill vehicle occupants. GM says about 200,000 Saab and Saturn cars in Canada and the U.S. need new driver-side airbag inflators.
Those inflators are metal and inside the inflators is the explosive chemical, ammonium nitrate. The chemical can become unstable when exposed to moisture, including moisture caused by heat and humidity.
A simple slow-speed accident can cause the airbags to explode in the face of occupants, something that has caused at least 10 deaths and over 100 injuries, plus nearly 50 recalls involving millions of vehicles.
GM says the recalled cars are the 2003-2011 Saab 9-3, 2010-2011 Saab 9-5 and the 2008-2009 Saturn Astra.
About 180,000 of the cars are in the U.S. and the remaining are in Canada.
GM currently doesn't plan on providing loaner cars while owners wait for the recall to start because the automaker says owners shouldn't be afraid of driving the cars. Although Takata PSDI-5 inflators have exploded in lab tests, GM says none of the airbags have exploded in the recalled Saab or Saturn cars.
The automaker says it doesn't have enough replacement parts to know when the recall will begin. An interim recall letter will be mailed and a second letter will be mailed once parts are available.
With questions or concerns, Saab owners should call 800-955-9007 and Saturn owners should call 800-553-6000.
CarComplaints.com has complaints you can read concerning the Saab and Saturn cars named in the Takata airbag recall: