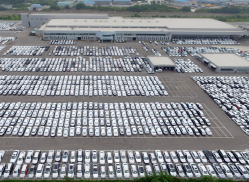 — South Korea has taken more action against Volkswagen as punishment for cheating on emissions tests and has banned the sale of 80 models in the country.
The move comes after numerous other actions by South Korean prosecutors, including raiding VW offices and the arrest and indictment of a Volkswagen executive.
The banned Audi, Bentley and Volkswagen vehicles won't be certified for sale until the vehicles can pass all nitrogen oxide emissions, noise and fuel economy tests, then VW will have to go back through the certification process.
The sales ban covers vehicles sold in South Korea from 2009-2016 and brings the total number of banned cars to almost 210,000. That's a lot of cars considering VW has sold about 300,000 vehicles in the country since 2007.
Although the South Korean market isn't large for Volkswagen models, the market is popular for Audi and Bentley vehicles.
The government says VW provided false reports not only for emissions results but also for noise level readings and fuel economy numbers. The sole reason the automaker falsified official reports was so the cars could be imported and sold.
The Ministry of Environment also fined Volkswagen $16 million for cheating on emissions tests so 47 models could be sold in the country.
South Korean authorities say owners who are driving the banned vehicles can continue to drive the cars and can sell the cars if needed.
The government had already rejected VW's recall proposal to fix about 125,000 diesel cars equipped with emissions defeat devices, saying the automaker didn't provide enough details. But regulators also said the recall plan was rejected because VW didn't provide information about software updates because the software hadn't even been created yet.
Volkswagen responded to the sales ban by saying legal action may be taken against South Korea in an attempt to recover the trust of Korean consumers.