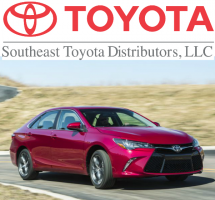 — For the second time in two weeks, Southeast Toyota Distributors (SET) has ordered a recall, this time on 2,520 Toyota and Scion vehicles for a minor problem with labels.
A recent recall ordered by SET was more serious as the problem was related to seat heaters that can catch on fire, but the Toyota distributor says the label recall was caused by a simple printing error.
SET says the recalled vehicles include the following:
2016 Toyota Camry
2016 Toyota Highlander
2015-2016 Toyota Tundra
2015-2016 Scion FR-S
2015-2016 Scion tC
Although the label error may be simple, the federal regulations concerning those labels are anything but simple-sounding.
Based on federal regulations, a load carrying modification label must be added to a vehicle if weight exceeding the lesser of 1.5 percent of 100 pounds is added to a vehicle between final vehicle certification and the first retail sale of the vehicle. Any corrected values must be accurate to within 1 percent of the actual added weight.
SET says the recalled vehicles have an added net accessory weight in excess of the 1.5 percent of 100 pounds limit and the labels are not accurate to within 1 percent of the actual added weight.
In plain English? The recalled vehicles have a load carrying capacity modification label that is not accurate within 1 percent of the weight of any accessories installed on the vehicles. This can possibly cause a driver to overload a vehicle without knowing its overloaded.
The recall will begin July 14, 2016, when SET begins providing new and corrected labels to place over the incorrect labels.
Owners with questions can call Southeast Toyota Distributors at 866-405-4226.
Read complaints submitted to CarComplaints.com about the vehicles listed in the label recall: