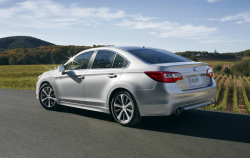 — Subaru is recalling 48,500 model year 2016-2017 Legacy and Outback vehicles because, as the National Highway Traffic Safety Administration says, "turning the steering wheel may have no effect on the direction of the wheels."
Until driverless cars are available to the public, steering wheels are still necessary for turning the wheels, meaning Subaru has a problem on its hands with the new vehicles.
The issue first came to light on May 3, 2016, when an owner reported problems with their 2016 Subaru Outback that required a tow to the dealership.
Engineers inspected the vehicle by using a bore scope and by removing the steering column but could find no root cause of the problem. The steering column was returned to the supplier for further inspection and on May 9 a decision was made to recall the vehicles.
The automaker says the tool used in building the steering column used an incorrect setting and caused an improper machining of one of the steering column shafts. The condition can cause the steering column shaft to fail to engage properly and leave the steering wheel to rotate freely any way it wants.
The vehicles were built from February 29, 2016, to May 6, 2016.
The Subaru Legacy and Outback recall should begin May 13, 2016. Subaru says a dealer must inspect the lot number of each steering column and if it has one of the affected lot numbers, the steering column must be replaced. Until repaired, the vehicles should be parked and the steering wheel left untouched.
Affected owners with questions should call Subaru customer service at 800-782-2783 and ask them about recall number WTD-65.
CarComplaints.com has owner-reported complaints about the Subaru Legacy and Subaru Outback.