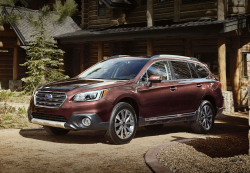 — Subaru is recalling 99 model year 2017 Outback SUVs because a bucketful of bolts may not have been tightened properly. Subaru says loose bolts may be on the front left and right brake calipers, wheel hubs and the right stabilizer clamps.
All those loose bolts mean a lot of loose parts, including the calipers, wheel hubs and stabilizer clamps that may drop off the SUVs.
The 2017 Subaru Outbacks were manufactured June 20, 2016, to June 23, 2016.
Subaru says it has already contacted the owners so dealers can replace any loose bolts. However, if you own one of the SUVs and have questions, please call 800-782-2783 and use recall number WTE-66.
CarComplaints.com has complaints about the Subaru Outback and other Subaru vehicles.