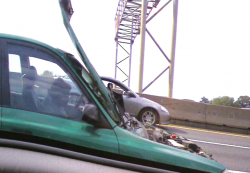 — Subaru Tribeca hood latch problems will be repaired to make sure the hoods don't fly open while driving. Subaru says 77,000 model year 2006-2014 Subaru Tribeca SUVs are affected by the recall that will involve hood latch repairs in two phases.
Subaru blames the problem on rusted parts or solidified grease that can gradually cause the springs inside the hood safety system or hood lock system to fail to return to the proper positions.
The hood safety system is used when closing the hood where the hook of the hood is pushed back and locks into the locking pin. When the hood is opened and up, the hook moves back so it can catch onto the lock pin.
However, problems can cause failure of the hook to move into position when the hood is opened.
The hood lock system is used when opening the hood using the release lever inside the Tribeca. In this situation, the cable pulls the lever into the open position, but rust or bad lubrication can cause the lever to stick in the open position. This can cause the claw mechanism inside the hood lock to rotate so the hood fails to lock.
Subaru says dealers will perform the recall in two phases. The first phase will see dealers cleaning and lubricating the hood systems. Then the hood latch will be replaced if it still doesn't operate correctly. The second phase will involve installing improved hood safety and lock systems.
The recalled 2006-2014 Subaru Tribeca SUVs were manufactured November 16, 2004, to January 27, 2014.
Subaru doesn't know when the hood latch recall will begin, but owners of the Tribeca can always call the automaker at 800-782-2783. Subaru's number for this recall is WQX-59 (phase one) and WQY-60 (phase two).
In October 2015, the owner of a 2006 Subaru Tribeca filed a lawsuit against the automaker after claiming the hood opened while driving 65 mph. The plaintiff alleges the hood flew open and slammed into the windshield, breaking the glass and dislodging the rear-view mirror.
CarComplaints.com has complaints about the Subaru Tribeca and other Subaru models.