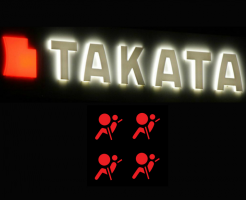 — The National Highway Traffic Safety Administration (NHTSA) says as many as 85 million Takata airbags in the U.S. contain ammonium nitrate, the chemical believed to be the primary cause of exploding Takata airbags. What's even more scary is the fact those 85 million airbags are not currently part of any recall.
Takata airbags have killed at least 10 people in the U.S. and injured over 140. The airbags contain metal inflators used to deploy the airbags. Inside each inflator is an explosive chemical called ammonium nitrate that is used to create the explosive charge to deploy the airbags.
However, scientists confirmed the inflators can allow moisture to invade the ammonium nitrate and alter the chemical, causing it to become unstable. The explosive force causes the metal inflator to explode like a grenade and send shards of metal into the vehicle cabin, and vehicle occupants.
NHTSA says out of the 85 million airbags that haven't been recalled, 32 million have a desiccant (drying agent) added to the ammonium nitrate to protect the chemical from moisture. That leaves 53 million airbags equipped with ammonium nitrate without a drying agent, therefore making the chemical more susceptible to moisture.
The only way those 85 million airbags won't eventually be recalled is if Takata can prove to safety regulators the airbags are safe. That could be a tough order for the 53 million inflators that don't contain a drying agent.
The 85 million inflators include estimates of 14.5 million driver-side airbag inflators, 43.4 million passenger-side inflators and about 27 million side airbag inflators.
To date, 29 million inflators have been recalled in the U.S., with the majority of affected vehicles still waiting for repairs. Data concerning how many airbags have been repaired shows much needs to be done before all 29 million inflators are replaced.
As of April 8, 2016, NHTSA says 4,552,841 driver-side airbags and 3,408,417 passenger-side airbags have been repaired. That's a total of 7,961,258 airbags repaired out of almost 29 million that need repairs, all installed inside vehicles from 14 automakers.
Takata originally set aside millions of dollars to cover the cost of the recalls and government penalties, but recent estimates have blown those figures out of the water. In February, one group of analysts put the estimated cost at $17 billion and a later maximum number of $24 billion was tossed around by a source close to Takata.
Takata has until the end of 2018 to prove the desiccant-equipped airbags are safe and has until the end of 2019 to prove the airbags without the drying agent are safe.