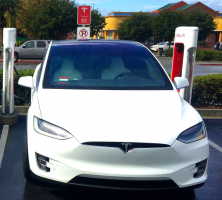 — Tesla is recalling 2,700 all-electric Model X crossover SUVs after seatback problems were discovered during internal crash testing.
The automaker says it is being proactive in ordering the recall to ensure the safety of its customers. According to Tesla, crash testing by the company indicates the Model X will eventually be the first SUV to receive the highest safety rating in every category, but the seatbacks need to be replaced to receive those high ratings.
Tesla discovered the problem during internal seat strength testing when the locking hinge in the third-row seat slipped during the test. The locking hinge allows the third-row seatback to fold forward. If the hinge slips in a crash it's possible the seatback could move forward when it shouldn't.
However, Tesla says 15 additional tests showed no failures and there have been no reports of third-row seats slipping in customer vehicles.
The automaker says a remedy for the problem is already in place since the supplier, Futuris Group, created a new improved locking hinge design. In addition, Tesla is currently busy constructing new third-row seatbacks.
Although Tesla hasn't mailed official recall notices yet, the automaker has contacted affected customers to let them know about the forthcoming recall.
Tesla says customers should not allow people to sit in the third-row seats in the Model X until the problem is fixed. The automaker hopes to have repairs completed within the next five weeks.
Owners of the Tesla Model X may contact Tesla customer service at 844-248-3752 and refer to recall number SB-16-13-003.