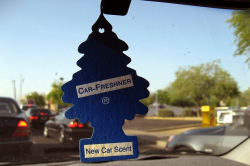 — A Toyota Camry AC smell lawsuit still lingers in court as the plaintiffs fight Toyota's motion to dismiss the suit that alleges the air conditioning systems emit moldy smells due to a defect in 2011-present Toyota Camry cars.
The proposed class-action lawsuit was filed in 2015 by plaintiffs Gloria Ortega and Alfred Salas who claim the evaporator allows mold to grow and creates a hazard to occupants. The evaporator, used with the heating, ventilation and air conditioning (HVAC) system, allegedly collects moisture due to condensation as it absorbs heat from the passenger compartment.
The plaintiffs claim moisture, dead insects, leaves and pollen enter the HVAC system from outside vents and creates perfect conditions for the growth of mold.
The Camry lawsuit says Toyota has known about the problem since at least 1997 when the automaker sent a technical service bulletin to dealers concerning a musty smell caused by the evaporator. The plaintiffs argue Toyota should have told Camry owners about the odor problems and stopped selling the cars until the problems were fixed.
The plaintiffs say dealerships often make customers pay hundreds of dollars for repairs to the HVAC system and components, but an owner will be left with holding their nose while driving.
A New Jersey Toyota Camry owner told CarComplaints.com they were trying to figure out why they paid more than $600 to get rid of mold smells that reappeared in 10 minutes.
"...on 8/13/2016 my car started blowing extremely hot air and had a strong dead animal moldy smell. I took it to Toyota that same day it was 102 degrees inside the car plus that awful smell I was told to bring it back on 8/16/16 which I did after staying there for three and a half hours they kept my car and told me the total was $636.00 to fix. On 8/17/16 at 5:30pm I picked up my car on the way home the AC was on less than 10 minutes the same thing. EXTREMELY HOT AIR AND THAT SAME MOLDY SMELL. When I go back on 8/20/16 I would like to know what did my $636.00 paid for because NOTHING was fixed." - 2013 Toyota Camry owner / East Orange, New Jersey
The Toyota Camry mold smell lawsuit also alleges a repair manual for the 2005 Camry says a common complaint from owners concerns smells coming from the AC system but there is no permanent repair for the problem.
Ortega and Salas claim the Camry mold smells cause eye irritation, wheezing and irritation of the skin, especially to anyone who suffers from mold allergies. In addition to the possible consequences of constant exposure to mold, Camry owners also say the problem causes them to become immune to the smells.
"I bought this car December of 2013, I don't have any problem on my first year. Then my daughter told me that my car smells like pee, I immediately wash the entire interior of the car. I still using this car until now but the problem is I am getting immune on the smells (something wet, moldy or like smells like old towels) Please HELP!" - 2013 Toyota Camry owner / South San Francisco, California
Toyota has succeeded in getting certain claims dismissed, but the judge allowed the plaintiffs to amend the complaint. However, Toyota argues the amended complaint doesn't include any new facts as to why monetary damages "would be inadequate to address any purported injuries, e.g., alleged economic injuries concerning their vehicles and the out-of-pocket expenses incurred by unidentified class members."
The Toyota Camry AC smell lawsuit was filed in the U.S. District Court for the Central District of California - Salas, et al., v. Toyota Motor Sales, U.S.A. Inc., et al.
The plaintiffs are represented by Capstone Law APC.
A separate Toyota Camry mold smell lawsuit was filed in 2012 alleging 2012 Toyota Camry cars have defects that cause musty moldy odors from the HVAC systems. However, a judge sent the case to arbitration instead of to a jury.
Read examples of complaints about mold and musty smells that come from the 2012 Toyota Camry, 2013 Toyota Camry and the 2014 Toyota Camry.