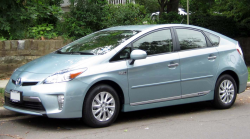 — A Toyota Prius Plug-In mileage lawsuit has been filed concerning a 2012 Prius Plug-In that allegedly gets only 8 miles on a single battery charge. Plaintiff Richard Rosenbaum says he purchased the 2012 Toyota Prius Plug-In to save gas when driving 12 miles for work, then discovered the car wouldn't travel that far on a single battery charge.
The plaintiff says before he purchased the Prius Plug-In, Toyota was advertising a range of at least 13 miles when in electric mode knowing the car could not meet that standard.
The plaintiff claims the Prius traveled an estimated 8.2 miles in the summer months, and sometimes the car made it only 3 miles on a single overnight charge.
The lawsuit alleges the Prius Plug-In was brought into a Toyota dealer in May 2015 so the automaker could inspect the all-electric mileage claims of 8 miles. Rosenbaum says a test was conducted and after the test the Prius started getting 10 miles on a single charge, causing the plaintiff to believe Toyota did something to alter the car.
However, the automaker denies the accusation.
Rosenbaum also claims Toyota didn't inform consumers the cars must run on gasoline engines when outside temperatures drop below 55 degrees. The plaintiff lives in Michigan where months can pass without outside temperatures rising above 55 degrees, so using the car to save gas money going to work hasn't worked out.
Rosenbaum says the gas engine must be used at temps below 55 degrees because of using the heater, with the gasoline engine allegedly needed to provide hot water for the car's heater.
The Prius Plug-In lawsuit alleges the automaker violated Michigan consumer protection and breach of warranty laws in addition to breach of contract violations.
The Toyota Prius Plug-In mileage lawsuit was filed in the U.S. District Court for the Eastern District of Michigan - Rosenbaum v. Toyota Motor Sales USA Inc.
The plaintiff is represented by the Rubinstein Law Firm.
Other automakers have been sued for allegedly advertising all-electric mileage claims that didn't quite turn out to be accurate.
In July 2016, the owner of a $72,000 model year 2016 XC90 T8 hybrid SUV sued Volvo after alleging the vehicle gets no more than 10 miles on a single charge. The plaintiff says that's a big difference compared to the advertised claim of 25 miles on a single battery charge.