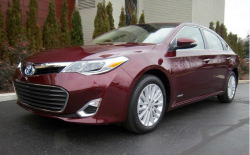 — Toyota is recalling more than 58,000 new cars because the front airbags can fail in a crash. The automaker says 41,630 model year 2016 Camry sedans and 16,880 model year 2016 Avalon cars have front passenger airbags, including knee airbags, that can fail to deploy.
Toyota says the problem is caused by the calibration of the occupant classification system in the front passenger seat. The system is used to activate or deactivate the airbags based on the weight of an occupant.
If the passenger seat is holding a child safety seat, airbags should not deploy because they could cause more harm than good to the child. But an adult needs the airbags in a crash, so Toyota dealers will need to re-calibrate the occupant classification system in the recalled Camry and Avalon sedans.
Toyota hasn't said more about the recall and the National Highway Traffic Safety Administration hasn't released details. CarComplaints.com will update this page when those details are released.
Read complaints about the Toyota Camry and the Toyota Avalon, or one of many other Toyota models.