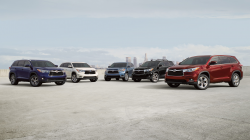 — Toyota is recalling 7,100 model year 2016 Toyota Highlander SUVs because they could run low on brake fluid but fail to warn drivers by illuminating warning lights.
Toyota says federal safety standards require a vehicle to activate a warning light if there is a drop in the brake fluid level. However, the automaker says there is a possibility the wire harness that attaches to the brake fluid reservoir sensor was never connected during manufacturing.
Toyota has released very little information about the Highlander recall and the National Highway Traffic Safety Administration hasn't released details.
Toyota says dealers will verify the brake fluid level sensor is connected, and reconnect it if necessary.
CarComplaints.com will update this page when the government releases details about the Highlander recall, but until then, owners may contact Toyota at 800-331-4331.
Read complaints about the Toyota Highlander and other Toyota vehicles.