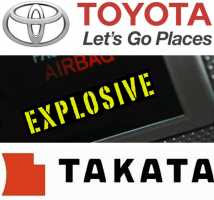 — Toyota is recalling more than 1.6 million Toyota, Lexus and Scion vehicles in the U.S. to replace Takata airbags at risk of exploding.
The move isn't unexpected after the National Highway Traffic Safety Administration (NHTSA) announced 35-40 million additional Takata airbags would be recalled in the U.S. The government made its decision after confirmation of the root cause for the airbags to explode like hand grenades.
The airbags have killed at least 10 people in the U.S. and injured more than 140 because of metal airbag inflators located inside the airbags. NHTSA says three independent investigations prove a combination of time, moisture and high temperatures cause the explosive chemical inside the inflators to become unstable and degrade over time.
The chemical, ammonium nitrate, is used in the inflators as the propellant to deploy the airbags in a crash, but the chemical can burn too quickly and rupture the metal canister.
Exposure to humidity and changes in high temperatures alter the chemical compound, at least in airbags that don't have a drying agent called a desiccant, a separate chemical used to absorb moisture.
Toyota says this latest recall involves defective passenger-side frontal airbag inflators that will be replaced based on "zones" of the country.
Vehicles recalled in zone A:
2008-2011 Scion xB
2008-2011 Lexus IS F
2009-2011 Toyota Corolla and Corolla Matrix
2006-2011 Toyota Yaris
2006-2011 Lexus IS 250 / IS 350
2010-2011 Toyota 4Runner
2010-2011 Lexus IS 250C
2010-2011 Lexus IS 350C
2010-2011 Lexus GX 460
2011 Sienna
2007-2011 Lexus ES 350
2009-2010 Pontiac Vibe
Those vehicles are recalled if they were originally sold or ever registered in the following "zone A" locations:
Alabama, California, Florida, Georgia, Hawaii, Louisiana, Mississippi, South Carolina, Texas, Puerto Rico, American Samoa, Guam, the Northern Mariana Islands (Saipan) and the U.S. Virgin Islands.
Toyota says unless included in zone A above, the following vehicles will be recalled in zone B areas below:
2008 Scion xB
2008 Lexus IS F
2007-2008 Toyota Yaris
2006-2008 Lexus IS 250
2006-2008 Lexus IS 350
2007-2008 Lexus ES 350
The recalled vehicles include those originally sold or ever registered in the following "zone B" areas:
Arizona, Arkansas, Delaware, District of Columbia, Illinois, Indiana, Kansas, Kentucky, Maryland, Missouri, Nebraska, Nevada, New Jersey, New Mexico, North Carolina, Ohio, Oklahoma, Pennsylvania, Tennessee, Virginia and West Virginia.
Toyota doesn't know when the recall will begin but interim notifications will be mailed to owners by July 22, 2016. Depending on the model, a dealer will replace the passenger frontal air bag inflator or the air bag assembly.
Toyota is using different recall numbers based on different zones and to separate the interim notification and the final recall notification.
Interim Notification Recall Numbers:
Toyota Zone A: G1P
Toyota Zone B: G1R
Lexus Zone A: G2G
Lexus Zone B: G2H
Final Recall Numbers:
Toyota Zone A: G0P
Toyota Zone B: G0R
Lexus Zone A: GLG
Lexus Zone B: GLH
Owners with questions should call Toyota customer service at 800-331-4331.
CarComplaints.com has many complaints about the Toyota, Lexus and Scion vehicles named in the Takata airbag recall: