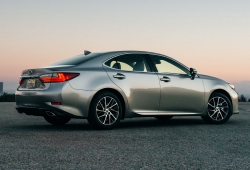 — Toyota is recalling almost 17,000 model year 2016 vehicles in two recalls to repair two separate problems.
Toyota RAV4, Lexus RX 350, Lexus ES 350
Toyota is recalling over 16,500 vehicles to fix problems that can cause issues with stability control. Involved are about 12,400 model year 2016 Lexus ES 350, 4,170 model year 2016 Toyota RAV4 and 90 model year 2016 Lexus RX 350 vehicles that have possible faulty brake actuators.
The automaker says all the vehicles are equipped with a brake actuator assembly that enables enhanced brake control functions including the anti-lock braking system, traction control and vehicle stability control. Toyota says it's possible a component inside the actuator could have been damaged during manufacturing and could cause a loss of vehicle stability control.
The recall is expected to begin June 5, 2016. Toyota dealers will check the serial number of the brake actuator and replace any affected actuators built during a certain production period.
Owners may contact Toyota customer service at 800-331-4331 and give them recall number G0I, GLC.
Toyota Sienna
A separate recall will have 230 model year 2016 Sienna minivans called back so dealers can fix front seat belt problems. Toyota says the minivans may have the wrong front seat belt height adjuster assemblies mounted to the pillar in the center. This can cause the seat belt to fail to hold an occupant in a crash.
Toyota dealers will replace the front seat belt height adjusters once the recall begins April 30, 2016. Owners may contact Toyota customer service at 800-331-4331 and use recall number G0H.