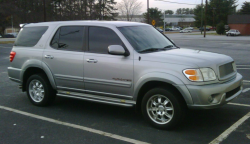 — The National Highway Traffic Safety Administration (NHTSA) has opened an investigation into 135,000 Toyota Sequoia SUVs after receiving 135 complaints about "vehicle stability control" (VSC) trac lights coming on. Sequoia owners also say the VSC trac lights activate at the same time a severe "pull" in the steering wheels can be felt.
Owners of the 2001-2002 Sequoia SUVs say the pull in the steering is caused by VSC systems that activate the brakes without warning while driving.
NHTSA says half the complaints mention bad yaw rate sensors that cause the VSC activations and 60 percent of the complaints say the SUVs pulled to the right during highway speeds.
The owner of a 2002 Toyota Sequoia said in addition to the pulling sensation, the ability to stop the SUV was a serious problem.
"Identical problem as described by many others. Vsc-trac and trac-off lights randomly illuminated on dry, level pavement when brakes were applied, causing a loud grinding noise (much louder than normal application of anti-lock brakes), and car pulled and would not stop no matter how hard the brake pedal was pressed." - 2002 Toyota Sequoia owner / Kaneohe, Hawaii
A Texas 2001 Sequoia owner complained about a feeling of the steering wheel being jerked along with the VSC warning lights activating.
"Just driving along, and feels like brakes grab and jerk the wheel and VSC Trac lights go on. Problem has been occurring intermittently for months. Can be at highway speeds, but also happens at any speed. Very dangerous and scary." - 2001 Toyota Sequoia owner / Round Rock, Texas
The complaints about feeling the steering wheel "jerk" seems to be common, as NHTSA says many of the complaints allege a jerking feeling even when no pull of the steering wheel is experienced.
The investigation is called a preliminary investigation by NHTSA. From here, the government could find no cause to proceed and close the investigation. NHTSA could also upgrade the investigation to an engineering analysis or request that Toyota recall the SUVs.
CarComplaints.com will update our website when NHTSA releases results of its Toyota Sequoia investigation.
Read complaints from owners about brake and steering problems in the Toyota Sequoia SUVs under investigation: