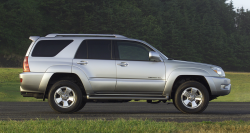 — The victim of a carjacking and the family of a deceased mother and her three children blame the incidents on Toyota and the design the automaker used to manufacture the door locks in 2005 Toyota 4Runner SUVs.
On July 25, 2014, a female real estate agent parked the 4Runner on Cumberland and Cambria Streets in Philadelphia and shifted the SUV into "PARK." Shortly afterward, her doors opened and the victim found herself carjacked at gunpoint, sexually assaulted and held captive by assailants Cornelius Crawford, 25, and Jonathan Rosa, 20.
In a lawsuit filed against Toyota in the Philadelphia Court of Common Pleas, the victim claims Crawford panicked and drove through Philadelphia at high speeds with the victim trapped in the 4Runner.
Standing on a sidewalk along the route were a mother and her three children selling produce to raise money for their church. The lawsuit alleges the SUV went out of control, went airborne and hit the mother and children, killing all four. Killed were Keisha Williams, 37, and her children, ages 15, 10 and 7.
The Toyota 4Runner lawsuit alleges the owner of the SUV had no idea the doors would automatically unlock when the SUV was shifted into PARK. The plaintiff blames Toyota for not informing consumers about how the door locks work and the dangers of doors automatically unlocking, especially in urban areas.
According to the lawsuit, the 4Runner lacked proper warnings as to the safety and security issues presented to consumers by a locking system that failed to provide security when the transmission gear selector was moved to "PARK."
Calling the door lock system in the 2005 Toyota 4Runner a "design flaw," the plaintiffs say no automaker has a good reason to create a system that automatically unlocks the doors just because the gear shifter is moved into PARK.
The lawsuit seeks damages against Toyota for liability, negligence and wrongful death. Additionally, Toyota will face charges related to warranties of merchantability and the mental impact the events had on those involved.
Cornelius Crawford pleaded guilty to a host of charges including carjacking, robbery, sexual assault and four counts of third-degree murder. Crawford was sentenced to 50 to 100 years in prison, while accomplice Jonathan Rosa will be locked up 45 to 90 years.