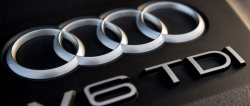 — A Volkswagen 3-liter diesel settlement agreement has been reached for U.S. owners of about 83,000 3-liter TDI vehicles with V6 diesel engines.
In addition to affecting 3-liter diesel owners, the agreement involves the Environmental Protection Agency (EPA), the California Air Resources Board (CARB) and the California Attorney General.
Under the proposed 3-liter diesel agreement, Volkswagen will be allowed to recall more than 75 percent of the illegal vehicles to fix them and bring them into compliance with emissions laws. The settlement agreement could mean another $1 billion loss for VW, adding to the $15 billion to be paid for illegal 2-liter vehicles.
However, much depends on whether the automaker can adequately repair the vehicles, a fix VW so far hasn't made public and a fix that will need to be approved by the EPA and CARB.
The proposed consent decree includes the following 3.0L TDI V6 vehicles:
2009-2016 Volkswagen Touareg
2013-2016 Porsche Cayenne
2014-2016 Audi A6
2014-2016 Audi A7
2014-2016 Audi A8
2014-2016 Audi A8L
2014-2016 Audi Q5
2009-2015 Audi Q7
VW has agreed to recall about 63,000 model year 2013-2016 Audi, Porsche and Volkswagen 3-liter V6 vehicles to fix the emissions systems, dependent on if regulators approve the recall modifications. If the automaker cannot fix the vehicles, a buyback offer will be made and leases will be terminated.
For the remaining older 2009-2012 vehicles, VW will offer to buy back or terminate the leases of about 20,000 vehicles, of if approved by regulators, to modify the vehicles to reduce nitrogen oxide emissions. This modification option will allow owners to keep the vehicles, but it's possible VW won't be able to repair the older vehicles.
Volkswagen also agreed to pay $225 million to the environmental fund that is being created under the 2-liter agreement and to pay an additional $25 million to the state of California to support zero emissions vehicles.
There are still kinks to work out between VW, owners and regulators and some proceedings remain confidential as ordered by the court. The judge says all parties have a deadline of January 17, 2016, to submit a formal agreement to the court.
The agreement won't be final until approved by the court, something that won't be accomplished until spring of 2017, at the earliest. Affected customers don't need to anything now except wait, or to learn more owners may visit www.VWCourtSettlement.com.
The federal multidistrict litigation was filed in the U.S. District Court for the Northern District of California, San Francisco - In Re: Volkswagen "Clean Diesel" Marketing, Sales Practices and Products Liability Litigation.
The agreement with 3-liter owners in the U.S. comes a day after Volkswagen agreed to pay up to $2.1 billion in Canadian dollars to 2-liter VW owners in Canada. Owners of 3-liter diesel vehicles in Canada are still waiting to learn their fate and that of their vehicles.
Separately, German auto supplier Robert Bosch GmbH, agreed to settle charges related to "defeat device" software used in Volkswagen vehicles. The proposed agreement may cost the company up to $300 million to settle claims Bosch previously called "wild and unfounded."