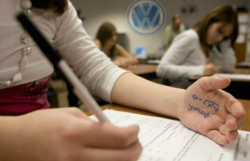 — German newspaper Bild am Sonntag reported on Sunday that U.S. regulators have caught Volkswagen cheating again, this time by using unapproved software on 3-liter diesel cars.
Bild, the largest Sunday paper in Germany, didn't say how it got the information and U.S. authorities haven't commented, but the report says the 3-liter cars have three illegal software programs.
The programs are allegedly used to shut off nitrogen oxide emissions controls after 22 minutes, about two minutes longer than the 20 minutes it takes to perform a typical emissions test. If true, emissions regulators would see normal emissions levels on test machines, then after about 22 minutes the emissions levels will shoot up after testing is concluded.
Bild says the software was discovered on Audi Q7, Porsche Cayenne and Volkswagen Touareg vehicles equipped with turbocharged direct injection (TDI) 3-liter engines.
News of illegal 3-liter VW models isn't new since the automaker admitted in 2015 that about 85,000 of the cars are equipped with "auxiliary emission control devices" that VW kept quiet about. Those vehicles include the following Audi and VW models:
2009-2016 Audi A6
2009-2016 Audi Q7
2009-2016 Audi A7
2009-2016 Audi A8
2009-2016 Audi Q5
2013-2016 Volkswagen Touareg
2013-2016 Porsche Cayenne
In 2015, the Environmental Protection Agency said the vehicles had at least one "defeat device," but based on this latest report more devices have been found, although it's not clear if they all work the same way.
Volkswagen has agreed to a $15 billion settlement with 2-liter owners and to cover environmental damage, but still faces many lawsuits and government actions over those 2-liter cars.
Considering the majority of affected 3-liter models are under the Audi brand, it's managers from Audi who are scheduled to answer questions in front of U.S. regulators on August 10.
CarComplaints.com will update this page when new details come to light about any additional software found in the vehicles.