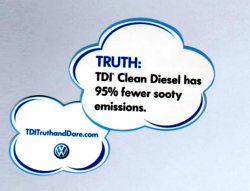 — Volkswagen is taking heat from a group of U.S. attorneys general after VW cited German privacy laws to keep internal documents out of the hands of U.S. investigators.
An investigation by 48 U.S. state legal defenders is attempting to determine how Volkswagen was able to sell its "clean diesel" cars for seven years, all the while with emissions "defeat devices" installed on the cars. The devices, illegal software used to cheat nitrogen oxide emissions tests, affect at least 11 million VW vehicles globally and about 500,000 in the U.S.
U.S. investigators say Volkswagen is putting on a public face of cooperation concerning illegal nitrogen oxide emissions while withholding emails of communications about those emissions.
Saying VW has been slow to provide information even with documents based in the U.S., government investigators say it's absurd to apply German laws outside of the German legal system.
Volkswagen says it won't comment about ongoing U.S. investigations and the automaker still hasn't told diesel owners how the emission systems of the cars will be remedied.
German media reports have given an indication of what VW might do to repair the cars, but the automaker hasn't provided a response.
One report from the German paper Bild am Sonntag said VW might have found a way to fix over 400,000 diesel cars in the U.S. by installing a special catalytic converter. The converter would adjust the nitrogen oxide emissions to legal levels by using different materials inside the converter.
The German paper didn't say if fuel economy would be affected by the new converter and Volkswagen hasn't commented on the matter.
In a separate German media report, the daily paper Sueddeutsche Zeitung said Volkswagen may buy back a fifth of U.S. diesel cars that contain defeat devices. That would be about 115,000 cars Volkswagen would either fully repurchase, or give an option for the owner to buy a new VW car at a large discount.
If the account holds true, it's likely older 2-liter diesel models will be the focus of a buyback because the automaker has publicly said older models are more difficult to fix.
While Volkswagen tries to find a fix for millions of vehicles, the U.S. Department of Justice filed a civil complaint against Audi, Porsche and Volkswagen on behalf of the Environmental Protection Agency that in theory could cost VW tens of billions of dollars.