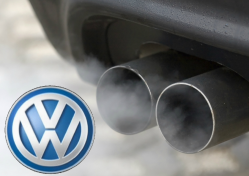 — Volkswagen is allegedly in talks with the U.S. Justice Department to settle criminal accusations over the automaker's emissions fraud, possibly adding another $1 billion or more to the $15 billion VW has already agreed to pay.
According to a report from the Wall Street Journal, two sources close to the talks say fines could top $1.2 billion and a consent decree would require an independent monitor over Volkswagen.
As with other automakers that have settled criminal probes with federal prosecutors, no VW employees or management are expected to see any jail time, especially considering those people are likely based in Germany. Nevertheless, going by past experience, U.S. prosecutors have been satisfied with auto manufacturers if the automakers throw money toward the government to settle criminal matters.
Even in the case of General Motors ignition switches that killed and injured hundreds of consumers, not a single person at GM faced a minute in handcuffs or a day in jail.
In the case of GM, federal prosecutors allowed a deferred prosecution agreement that required the automaker transfer $900 million to the United States. The agreement also required an independent monitor review and assess policies, practices and procedures relating to GM's safety-related public statements, sharing of engineering data and recall processes.
If GM abides by all of the terms of the agreement, the government will defer prosecution for three years and then seek to dismiss the charges.
The government also said a separate wire fraud charge would also be dropped if the automaker didn't break the law for three years.
However, GM owners who were wrongly accused of crimes because of the faulty ignition switches did have to cope with handcuffs and serious charges. Only years later when GM got caught hiding the deadly defects did those owners have their names cleared. (Read about Candice Anderson and LaKisha Ward-Green)
Another automaker that faced criminal charges and got it all taken care of by coughing up money is Toyota, charged with criminal wire fraud over unintended acceleration events. Federal prosecutors settled the matter by allowing Toyota to pay a $1.2 billion penalty and assigning an independent monitor to look over Toyota's shoulders.
As with GM, prosecutors said if Toyota abides by all of the terms of the agreement, the government will defer prosecution for three years and then seek to dismiss the charges.
Any penalties prosecutors lay on Volkswagen will be in addition to the $15 billion the automaker agreed to pay to settle lawsuits for cheating customers for at least seven years and polluting the atmosphere.
More than $10 billion will be used to fix or buy back about 475,000 "clean diesel" vehicles in the U.S. that aren't so "clean," and about $2 billion will be set aside to develop and promote electric vehicles. Another $2.7 billion will be used for infrastructure to decrease diesel emissions.
Although U.S. criminal charges against automakers never leads to prison time, other countries take criminal matters more seriously, as seen in the recent arrest and indictment of a Volkswagen executive in South Korea.