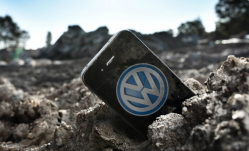 — Volkswagen is facing more legal trouble as the Federal Trade Commission (FTC) accuses the automaker of destroying evidence by erasing or "losing" 23 employee cell phones.
In its motion filed in a federal district court in San Francisco, the FTC says it saw red flags when 23 phones of important Volkswagen employees were determined to be lost or unable to be turned on.
Federal investigators want to know what was on those 23 cell phones that relates to VW's admitted emissions cheating that was concealed by the automaker for years.
VW was sued in March by former employee Daniel Donovan who said he was fired after refusing to destroy electronic evidence concerning Volkswagen's emissions operations.
VW responded by saying Donovan was fired for reasons unrelated to emissions issues, but Donovan's lawsuit alleges the automaker destroyed evidence after a federal order to save all data.
The lawsuit alleges Donovan, a seven-year employee, was fired because the automaker believed he was going to report the alleged illegal activity to federal investigators.
Shortly after the lawsuit was filed, Mr. Donovan withdrew the lawsuit without saying if Volkswagen settled out of court.
This is the second action taken by the FTC against VW after a lawsuit was filed in March alleging the automaker lied by advertising Audi and VW diesel vehicles as "clean" and good for the environment.
The lawsuit says Volkswagen intentionally deceived U.S. consumers from 2008-2015 with false claims about diesel vehicles that allegedly met all emissions standards. In addition, the lawsuit claims VW lied to consumers by advertising high resale values made it worth the cost to purchase the diesel vehicles.
The FTC also claims about 500,000 diesel vehicles should have never been certified for sale in the U.S., yet owners paid between $28,000 and $125,000 for illegal vehicles.