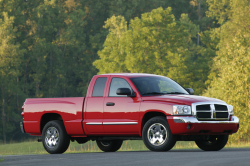 — Model year 2005 Dodge Dakota heated seats are at the root of a recall of nearly 17,000 trucks at risk of hot spots, burn holes and fires.
Fiat Chrysler (FCA US) says the Dakota trucks have driver and passenger heated seats that need to have their seat heating system controls updated to prevent occupants and their clothing from being burned.
Owners of the 2005 Dodge Dakota trucks complain about burned clothing and being told by Chrysler to take up the matter with the insurance companies.
"I stopped to get gas, when I shut the truck off I could smell something burning. When I got out there were two places on the seat with fire coming out of them I extinguished them then another customer told me my coat was on fire, I got that put out . Got home and called Dodge. They made arrangements for me to drop off the truck so they could look at it. It took a couple of weeks for them too get back to me. They said turn it into your insurance company." - 2005 Dodge Dakota owner / Ravenna, Ohio
A common theme among the complaints made to the National Highway Traffic Safety Administration (NHTSA) about the trucks is that Chrysler denied there were problems with the seat heaters.
"While the vehicle was idling for approximately fifteen minutes with the heated seats activated, the contact noticed smoke emanating from her vehicle. Upon further inspection, she noticed that the front driver's side seat was on fire. The vehicle sustained moderate damage. The dealer stated that the heated seat mechanism was defective and caused the failure. The manufacturer sent an investigator to determine the cause of the failure and it was concluded that the component was not defective."
"After approximately 15 minutes, I smelled something burning. I reached around the back of me as I was driving because a spot on my back was very heated. I actually stuck my finger through a hole in the seat that had burned through both the seat and my coat. (also my finger, at this point.) I immediately turned the heat off and went directly to the dealership. Their solution was to contact Chrysler's customer claims resolution center, who in turn inspected the vehicle and my coat on March 3, 2014. The next contact I had was a letter dated March 10 that stated, "the inspector found no indication of a manufacturing defect that caused or contributed to the incident..."
Additional information is not currently available, but FCA says the 2005 Dodge Dakota heated seats recall will begin February 8, 2018.
Truck owners with questions should call 800-853-1403 and ask for information about recall number T80.