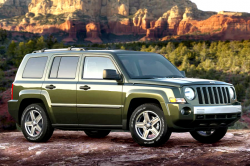 — The owner of a 2007 Jeep Patriot has filed a petition with the government to investigate why Patriot engines stall after putting gas in the tanks.
In a letter sent to the National Highway Traffic Safety Administration (NHTSA), the petitioner says his 2007 Jeep Patriot stalls after filling the gas tank even though the tank isn't over-filled.
The petitioner says the SUV stalls repeatedly and numerous dealer visits and repairs have done nothing to fix the problem. The petition lists at least 35 reports from 2007 Patriot owners about the exact same problem.
"I'm experiencing what I've found to be a well-documented issue with a vapor-liquid separator valve located in the gas tank of my 2007 Jeep Patriot. After fueling, moments after starting the car and putting it into drive, the car will stall and shut off. It will immediately re-start and run again but is pretty much guaranteed to shut off at every stop (I.e. at an intersection or while exiting the gas station) for the next few minutes. It also leads to hesitations of the engine while driving at full speed. This has happened to me the last four times I've filled my gas tank."
"I bought a new gas cap and yes Jeep brand and still the same problem. I have been reading other owners issue and they are identical to mine. The car stalls and shut off in the middle of traffic, at a stop light or just whenever. I was reading some complaints and they were saying the charcoal canister is the problem. The complaint also said you can not replace the charcoal canister, because it was build into the fuel tank, so you have to replace the whole fuel tank. The cost for a new fuel tank is around $1,250."
"After filling gas tank with fuel, after 30ish seconds the engine will stall and sometimes recover, sometimes quit. This happens regardless of whether I am stopped at a light/sign or driving. I have read numerous reports of others having this same issue. Seems that the charcoal canister is filling with gas."
"Every time after I fill the gas tank, I start the engine, it runs fine for 1-2 min. Then begins to buck and jolt like it wants to shut off. I've even had the engine completely shut off while on the highway."
NHTSA says an estimated 29,600 Jeep Patriots are part of the investigation into possible stalling problems associated with filling the gas tanks. Safety regulators will evaluate the evidence and decide if an official defect investigation should be opened.
CarComplaints.com will update our website with results of the Jeep Patriot petition.