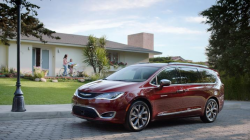 — If your 2017 Chrysler Pacifica engine shuts off and you've received no valid answers from your dealership, a petition filed with the National Highway Traffic Safety Administration (NHTSA) says the government should investigate engine stalling problems in the minivans.
Filed by the Center for Auto Safety and 2017 Chrysler Pacifica owner Adam J. Cohen, of Leesburg, Virginia, the petition says more than 50 people have complained to NHTSA about stalling minivans that left drivers without power steering at various speeds of driving, including while driving 60 mph in a tunnel.
Some Pacifica owners say their minivans stalled five times within the minivan's first 205 miles, and trips to dealerships typically do nothing to fix the problems. In the majority of cases, Fiat Chrysler (FCA US) allegedly tells Pacifica owners to keep driving the minivans until they stall again, something CAS says is reckless and shows a complete disregard of safety.
Dealers often say they can't replicate the problem and can't see any diagnostic trouble codes that would indicate a stalling issue.
Minivan owners claim when dealers do attempt to solve the problems, technicians have tried various repairs, including replacing the transmission control modules or updating the software, replacing the voltage control modules, replacing the fuel tanks and modules, replacing the electrical power distribution boxes and making sure no loose battery connections exist.
Safety advocates say this is proof FCA and its dealers are winging it and really have no idea what causes the stalling engines.
Mr. Cohen says on two occasions, his 2017 Pacifica lost power, once when his son was in the minivan.
Mr. Cohen emailed FCA's chief executive officer, chief technical compliance officer, head of quality and head of manufacturing. An FCA executive referral manager allegedly said in a telephone conversation that "a lot of eyes are on this…as a result of [petitioner's letter]."
Cohen says there is no reason FCA shouldn't recall the minivans because the automaker previously recalled minivans with symptoms of stalling. In June, FCA issued a recall for about 1,700 model year 2017 Chrysler Pacifica Hybrid minivans because customers were complaining about diodes that failed and caused the minivans to lose propulsion.
Mr. Cohen says Chrysler admitted at the time the hybrid minivan problem was a defect, so there is no reason the non-hybrid propulsion issues shouldn't qualify as a defect related to safety.
"Chrysler claims it cannot locate the source of the defect. Rather than do the responsible thing by recalling the car – or at least providing a loaner vehicle until this major defect is fixed – Chrysler has instead asked my family to continue driving the car with a data recorder attached to help Chrysler figure it out. Neither my family nor anyone else's should be asked to serve as Chrysler's crash test dummy."
Other 2017 Pacifica minivan owners complain about the same issues Cohen referenced in his petition.
"On May 20, 2017, my 2017 Pacifica shut off while driving. The dash displayed the message, "vehicle must be in park to switch gears," or something along those lines. I had to place my vehicle back in park and restart the engine. Most people who have taken theirs for service have been told that no codes were pulled and to bring it back if it happens again. Obviously unacceptable."
The owner checked online and found other 2017 Pacifica owners who described the stalling problems.
"One customer was told that his Pacifica was fixed but they refused to document the issue and wouldn't tell him what was wrong or how they fixed it. One owner was told it was a VRM fail and another had the fuel rail sensor replaced. This all seems so fishy to me. I don't understand how I can find so many instances of this happening by doing a quick google search, but Chrysler seems dumbfounded by this problem."
The Center for Auto Safety says Chrysler should recall about 150,000 model year 2017 Pacifica minivans and get the vehicles off the roads by providing customers loaner vehicles until the automaker can determine how to fix the minivans.