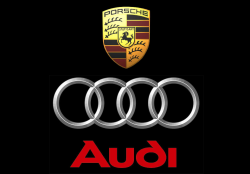 — Audi and Porsche are in more trouble at home as Germany's transportation authority and prosecutors take new actions against the automakers over illegal emissions.
The Federal Motor Transport Authority has Porsche in its sights over the way steering wheels operate during emissions tests and Audi is under the microscope concerning illegal software in A7 and A8 cars.
According to German media reports, officials believe Porsche may be using software that detects when the cars are on emissions test machines by the use of the steering wheel.
Porsche denies it uses any software or devices on any models to detect steering wheel movements.
Similar accusations were raised in 2016 by German media after reports surfaced that California regulators allegedly discovered Audi had installed software to defeat emissions controls during official tests. The "defeat device" software is activated by reading the movements of the steering wheel to recognize when the car is tested in a lab.
California engineers decided to do something different with emissions tests, so they turned the steering wheel that would have typically not been touched during the test. Engineers determined that by simply turning the wheel 15 degrees, the car immediately started emitting higher levels of carbon dioxide.
The German Transport Ministry is also climbing all over Audi by accusing the automaker of cheating on emissions tests on expensive models, something that caused Germany to request a recall of about 24,000 A7 and A8 cars built between 2009 and 2013.
German authorities say nitrogen oxide emission levels change based on steering wheel movements of more than 15 degrees, the same accusations currently against Porsche. Germany says a turn of the wheel will cause nitrogen oxide levels to increase twice the legal limit.
Audi has always argued the emissions software installed in the cars is legal and meant to protect the engines from damage in extreme driving conditions, but regulators in Germany don't see it the same way.
German regulators say Audi has until June 12 to present a plan to fix the cars without harming fuel efficiency or power. The automaker says it will begin updating software in July and will work with regulators to ensure the cars are legal.