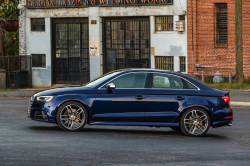 — Audi is recalling more than 11,600 model year 2017 Audi A3 and S3 sedans after the automaker found problems with the passenger frontal airbags.
In a lower-speed crash, the passenger airbag control unit software can deploy the airbag incorrectly if the front passenger is sitting on the edge of the seat or lying in the seat in a reclined position.
Continental Corporation, the supplier of the affected airbag components, determined the cause of the problems after Audi found incorrect triggering of the airbags during the second stage of a low-risk crash test.
The supplier determined the airbag control module software has errors that can cause the airbag to deploy the passenger frontal airbag more forcefully than needed. New software was created and tested by the supplier and put into production lines, and by March 2017, Audi decided the defect was bad enough to order a recall of the A3 and S3.
Owners should receive recall notices from Audi in April 2017 describing how the automaker will update the airbag control module software.
Owners of recalled 2017 Audi A3 and S3 sedans may contact Audi at 800-253-2834 and use recall number 69Q3.
A recall caused by occupants lying in passenger seats may seem strange, but Mercedes-Benz ordered a recall just a week ago for the exact same problem.