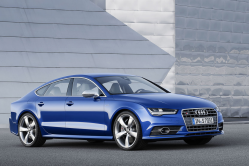 — Audi is recalling nearly 17,700 model year 2015-2017 A7 cars because of head curtain airbags that may fail to deploy properly in a crash.
Audi says the problem is caused by the way the head curtain airbags were folded at the supplier, something the automaker learned about in September 2016 during routine monitoring of the cars.
If the head curtain airbag doesn't unfold properly in a crash, a passenger will have an increased chance of injury, especially if they aren't wearing a seat belt.
The supplier has since changed the process used to fold the airbags so the problem doesn't occur again.
The automaker and supplier have been conducting tests on the airbags for months and Audi says it's possible more vehicles will need to be recalled.
The Audi A7 recall should begin June 29, 2017, when dealers will replace the head curtain airbags.
If you own a 2015-2017 Audi A7 and want to learn more, contact the automaker at 800-253-2834 and ask for details about recall number 69R2.
2017 Audi Q5 Recall
In a separate recall of just five SUVs, Audi says 2017 Q5s have defects that can cause the vehicles to roll away even when the SUVs look to be in PARK.
The automaker says a problem occurred during manufacturing of the gearbox that allows the Q5 to move even when in PARK. Audi says until the problem is fixed, owners should always use the parking brakes to hold the SUVs in place.
An Audi dealer will need to replace the entire gearbox in each Q5 to get rid of the problem.
The automaker will contact the five owners to schedule appointments with their dealerships, but with questions, call 800-253-2834 and ask about recall number 37K6.
None of this is good news for Audi that just a week ago recalled 240,000 vehicles, including the 2017 Q5, over the risk of fires.
CarComplaints.com has complaints about the Audi A7 and Audi Q5.