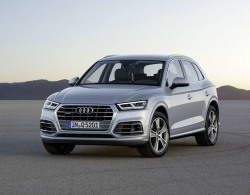 — Audi is recalling nearly 343,000 cars to fix serious problems that could cause fires in or near the engine compartments. The recalled vehicles include the:
2013-2017 Audi A5
2013-2017 Audi A5 Cabriolet
2013-2017 Audi Q5
2013-2016 Audi allroad
2013-2016 Audi A4
2012-2015 Audi A6
All the cars are equipped with 2-liter turbo fuel stratified injection (FSI) engines with electric coolant pumps that can overheat and catch on fire due to debris blocking the pumps.
In 2015 and 2016, Audi learned of incidents involving overheating in the engine compartments, so an investigation was opened in 2016 to track down the problem. Engineers determined foreign materials and debris could block the coolant pumps, leading to overheating, smoldering and a severe risk of fire.
Audi decided to fix the problem by not really fixing the problem, although the fix should keep the pump from going up in smoke and flames. The automaker created special software to deactivate the power supply to the coolant pump if the pump gets blocked. The pump will lose power and a driver will see a warning light illuminate, as long as the light bulb works.
The recalled cars were manufactured during the following dates:
2013-2016 Audi A4 - February 20, 2012, to December 8, 2015
2013-2017 Audi A5 Cabriolet - March 9, 2012, to December 16, 2016
2013-2017 Audi A5 - March 8, 2012, to November 19, 2016
2012-2015 Audi A6 - April 4, 2011, to December 22, 2014
2013-2017 Audi Q5 - July 4, 2013, to December 20, 2016
2013-2016 Audi A4 allroad - March 12, 2012, to April 1, 2016
The recall should begin February 20, 2017, when Audi dealers will update the software that will kill the power supply to the coolant pump.
Owners who have questions should call Audi at 800-253-2834 and ask for information about recall number 19M1.
The recall was announced the same day a separate recall was announced involving 234,000 Audi Q5 SUVs.
Read what owners of the recalled Audi cars have told CarComplaints.com about the vehicles: