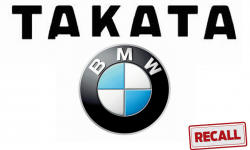 — BMW is recalling more than 48,300 vehicles as part of a massive new group of recalls to replace 5.7 million Takata airbag inflators in the U.S.
BMW joins many other automakers that must expand recalls as well as add new Takata recalls, with the latest recall involving different "Zones" of the country.
The automaker says the following vehicles will be recalled in Zone A:
2012 BMW X5 xDrive30i
2012 BMW X5 xDrive35i
2012 BMW X5 xDrive48i
2012 BMW X5 xDrive50i
2012 BMW X5 M
2012 BMW X6 xDrive35i
2012 BMW X6 xDrive50i
2012 BMW X6 M
Those vehicles are recalled if they were originally sold or ever registered in the following (Zone A) areas:
Alabama, California, Florida, Georgia, Hawaii, Louisiana, Mississippi, South Carolina, Texas, Puerto Rico, American Samoa, Guam, the Northern Mariana Islands (Saipan) and the U.S. Virgin Islands.
Additionally, unless included in Zone A above, BMW is recalling the following vehicles originally sold or ever registered in Zone B locations:
2009 BMW X5 xDrive30i
2009 BMW X5 xDrive35i
2009 BMW X5 xDrive48i
2009 BMW X5 xDrive50i
2009 BMW X5 M
2008-2009 BMW X6 xDrive 35i
2008-2009 BMW X6 xDrive50i
2008-2009 BMW X6 M
2009 BMW X5 xDrive35d
Those vehicles are recalled in BMW's Zone B areas, which include:
Arizona, Arkansas, Delaware, District of Columbia, Illinois, Indiana, Kansas, Kentucky, Maryland, Missouri, Nebraska, Nevada, New Jersey, New Mexico, North Carolina, Ohio, Oklahoma, Pennsylvania, Tennessee, Virginia and West Virginia.
However, that's not all because unless included in the Zones above, BMW is recalling these vehicles:
2007-2008 BMW X5 xDrive30i
2007-2008 BMW X5 xDrive35i
2007-2008 BMW X5 xDrive48i
2007-2008 BMW X5 xDrive50i
2007-2008 BMW X5 M
2008 BMW X6 xDrive35i
2008 BMW X6 xDrive50i
2008 BMW X6 M
Those vehicles are recalled if originally sold or ever registered in:
Alaska, Colorado, Connecticut, Idaho, Iowa, Maine, Massachusetts, Michigan, Minnesota, Montana, New Hampshire, New York, North Dakota, Oregon, Rhode Island, South Dakota, Utah, Vermont, Washington, Wisconsin and Wyoming.
The automaker says all the vehicles need new passenger airbag inflators, but parts aren't available and BMW technicians don't know when they will have replacement inflators. The plan is to mail recall notices in March 2017 and then notify owners a second time when the parts are ready to go.
Owners of any of the above vehicles can contact BMW at 800-525-7417.