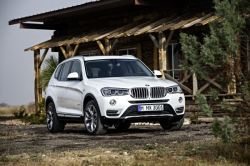 — BMW and airbag manufacturer Takata are once again in a close slow dance with each other over airbag problems, but not based on metal airbag inflators exploding.
The recall of nearly 6,800 vehicles is tied to a September 2016 recall to repair problems with improper welds on driver-side frontal airbag inflators. The issue is separate from the chemical ammonium nitrate that explodes and kills occupants with shrapnel from the inflators.
Recalled are the 2012-2013 BMW X3 xDrive28i, X3 xDrive35i, M6 Convertible and 2013 M6 Coupe.
Although exploding ammonium nitrate won't be the cause of harm this time, the metal parts of the airbag could still injure or kill the driver or other occupants when the inflator housing separates from the base plate.
BMW had asked Takata to review airbag module records and internal test documents and the airbag company responded by saying two production lots contained inflators with similar test characteristics to those involved in the 2016 recall.
Takata recommended that BMW investigate its production records and the automaker determined which vehicles were affected by the similar airbags. The automaker says it's unaware of any injuries or incidents related to the driver-side Takata PSDI-X inflators with the improper housing welds.
The Takata airbag recall should begin October 9, 2017. BMW dealers will fix the problem by replacing the front airbag modules.
Owners of 2012-2013 BMW X3 xDrive28i, X3 xDrive35i, M6 Convertible and 2013 M6 Coupe vehicles may contact BMW customer service at 800-525-7417.