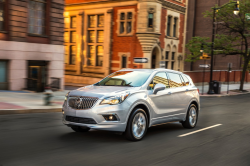 — General Motors is recalling 768 model year 2016-2017 Buick Envision SUVs because of problems with the head restraints.
Buick says an accessory universal tablet holder made by a company called NSV may have been installed incorrectly by GM dealers onto the front seat head restraints. The incorrect installation can prevent the head restraint posts from fully engaging in the seat back.
A GM employee first noticed a problem in March 2017 concerning a front head restraint on a new Buick Envision equipped with a universal tablet holder installed by a dealer. The employee found the head rest could be easily pulled out because it wasn't engaged, so the automaker opened a formal investigation.
The dealership that installed the tablet holder said more devices had been installed on additional Buick Envisions. GM looked over the installation instructions provided to dealers and found the details could be confusing, causing dealers to skip removing caps at the base of the head restraint posts.
The instruction sheets for installation of tablet holders provide special requirements for the Envision which involve removing the button caps at the base of the seat posts, but another area of the instruction sheets list the Envision as a model that does not require this step.
In addition, GM learned that dealers were failing to lock the head restraints into place at the end of installing the tablet holders.
With the head restraint not locked into place, it could move to the wrong height or completely loosen and fall out.
Dealers were notified of the necessary changes and the automaker decided to issue the recall.
General Motors doesn't know when the recall will begin. Dealers will inspect the head restraints and tablet holders to make sure everything is installed correctly. If there is a problem, the head restraints and tablet holders will be replaced.
Owners of 2016-2017 Buick Envisions may contact the automaker at 800-521-7300. GM's number for this recall is 17239/17258.