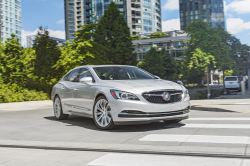 — General Motors is recalling more than 11,200 model year 2017 Buick LaCrosse cars that can go out of control because of rear suspension toe links.
In October 2016, GM was notified about a toe link that was installed incorrectly on a rear suspension module and an inspection discovered 1.5 percent of the 1,645 vehicles inspected had the toe links installed backward.
However, GM treated the subject as minor because engineers determined that even with the backward toe links, the bolts connecting the toe links to the rear suspension system would stay in place and keep the toe links attached, although they could loosen over time.
It wasn't until January 2017 that General Motors learned through additional testing that the problem was more severe than first believed, so engineers opened an investigation that found the toe link bolt could fall out and cause the toe link to separate from the suspension.
The automaker searched warranty claims and customer complaints and could find no relevant data but decided to investigate the problem more to determine what could happen if the toe link separates while driving highway speeds. Engineers found a driver will have real trouble controlling the car if the toe link bolt falls out while traveling 70 mph, so a decision was made to recall the cars.
The 2017 Buick LaCrosse recall is scheduled to begin June 20, 2017. Buick dealers will inspect both rear suspension toe link assemblies and fix the bolts if needed.
Customers with questions should call Buick at 800-521-7300 and ask about recall number 17168.
The 2017 LaCrosse isn't exactly off to a good start as GM already recalled the car about two months ago to fix problems that could cause a loss of power steering.
CarComplaints.com has complaints about Buick LaCrosse cars and many other Buick cars.