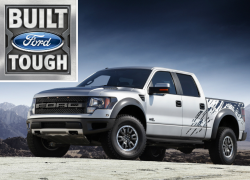 — If you want to sue Ford over its "Built Ford Tough" slogan, you may want to reconsider as a federal judge has dismissed a class-action lawsuit that alleges consumers were fooled into buying F-150 trucks with allegedly defective doors and locks.
In October 2015, plaintiff Brandon Kommer purchased a 2015 Ford F-150 XLT Super Crew truck because of advertisements from Ford about the truck being "Built Ford Tough."
However, Kommer says after he bought the truck, he had problems with its doors and locks where the doors would not latch closed and the electric locks would not open in below-freezing temperatures.
Kommer claims that Ford's advertisements about the F-150s durability and toughness suggest the door handles would work in below-freezing temperatures, but since the door handles did not work, Kommer claims the advertisements were misleading. In addition, Kommer also alleges that Ford knew of the problem with the door handles but failed to disclose it.
According to the lawsuit, on April 8, 2015, Ford issued a technical service bulletin (TSB) entitled "SUPERCAB/SUPERCREW CAB - FROZEN OR INOPERATIVE DOOR LATCH." The TSB told dealers the door latches on some 2015 F-150 trucks did not work in freezing temperatures, and it outlined steps dealers should take to fix the problems.
Kommer's 2015 F-150 SuperCrew Cab was listed as an affected vehicle and was also identified as eligible for repair under warranty, but Kommer never said he took his truck to get repaired or that it was not under warranty.
Additionally, Kommer brings up a second TSB Ford issued on November 18, 2016, that replaced the initial TSB about the door latches in F-150 trucks. While the first TSB covered only 2015 F-150s built before March 25, 2015, the second TSB covered all F-150 models from 2015 to 2017. The second TSB also listed the 2015 F-150 SuperCrew Cab as eligible for repair under warranty.
The judge found that many of the allegations in the lawsuit did not involve the plaintiff's own experience with his F-150, and although Kommer mentions a series of online advertisements from Ford's website, he never says he saw these advertisements.
Ford argued the door latch lawsuit should be dismissed because Ford's advertisements describing the quality and durability of its F-150s are "non-actionable puffery" and Kommer has not alleged an injury under the law.
In the lawsuit, Kommer refers to advertisements that he did not personally see and problems that unnamed owners had with their F-150s. But the judge found that in a proposed class-action, the named plaintiffs "must allege and show that they personally have been injured, not that injury has been suffered by other, unidentified members of the class to which they belong and which they purport to represent."
The court ruled Kommer cannot rely on the injuries or allegations relating to members of the proposed class-action to survive a motion to dismiss.
Concerning Ford saying its "Built Ford Tough" slogan is not misleading because it is "nonactionable puffery," the judge agreed and said an advertisement is puffery when it makes a generalized or exaggerated statement "such that a reasonable consumer would not interpret the statement as a factual claim upon which he or she could rely."
The judge referenced a similar case where a plaintiff sued General Motors after purchasing a Chevrolet Suburban with an allegedly defective braking system.
The GM plaintiff claimed that before purchasing his vehicle, he saw advertisements describing the quality and dependability that described Chevrolet Suburbans as "the most popular family of their kind anywhere." The advertisements also claimed that Chevrolet made the "most dependable, long-lasting trucks on the planet," and their vehicles are "Like a Rock."
The plaintiff claimed that he relied on the advertisements when he decided to purchase his Suburban. But he claimed he was "fraudulently induced" because the Suburban did not perform as advertised due to the braking system.
The court dismissed the GM case on the ground that GM's advertisements "constitute mere puffing," as they "are generalized and exaggerated claims, which a reasonable consumer could not rely upon as statements of fact." The court also ruled the advertisements "make no reference whatsoever to . . . the . . . quality of the vehicles' braking system."
In the F-150 lawsuit, the judge says Ford's advertisements "make no reference whatsoever to . . . the quality of the vehicles' [door handles]."
The statement that Ford vehicles are "Built Ford Tough" is an "exaggerated and generalized claim" similar to the advertisements determined to be puffery in the GM case. The judge also says at least one court ( Warner v. Ford Motor Co.) has explicitly held that Ford's "Built Ford Tough" and "Quality is Job #1" slogans are puffery.
Kommer also sued over two theories of injury: (1) he incurred out-of-pocket costs to repair his F-150, and (2) he overpaid for a truck that had diminished value due to the door latches. However, Ford argues that Kommer has not incurred out-of-pocket expenses, and that he will not need to because his truck is still under warranty.
The plaintiff may have sued by claiming he "incurred out-of-pocket costs to repair" his truck, but the judge says Kommer also readily admits that he has not personally spent any money to repair his F-150.
Kommer further alleges that he overpaid for a product that has diminished value because of its defects. But the court ruled Kommer has a perfectly adequate remedy available to him and that defeats his argument about the truck being worth less money.
According to the judge, the first TSB mentioned in the lawsuit shows the defective door handles are covered under warranty. The TSB was issued several months before Kommer purchased his truck and outlines how to fix the door handle problem and lists his 2015 F-150 Super Crew Cab as an affected vehicle falling under "Provisions Of New Vehicle Limited Warranty Coverage."
According to the judge, Kommer has not suffered an injury if the defect can be repaired for free as part of the warranty.
The judge granted all of Ford's motion to dismiss the lawsuit, but said Kommer can proceed with one claim (misrepresentation-by-omission) if he files an amended complaint within thirty days.
The Ford F-150 door latch lawsuit was filed in the U.S. District Court Northern District of New York - Brandon Kommer, et al, v. Ford Motor Company.
The plaintiff is represented by Denlea & Carton LLP.
CarComplaints.com has complaints about the 2015 Ford F-150, 2016 F-150, 2017 F-150 and many other model years of Ford F-150 trucks.