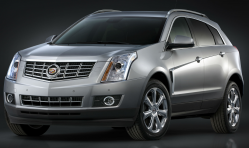 — A Cadillac SRX headlight moisture and condensation lawsuit alleges faulty seals allow water to enter the headlight assemblies, corroding and shorting out the headlights.
The proposed class-action lawsuit includes 2010-2015 Cadillac SRXs with headlights that allegedly fail and can cause thousands of dollars to replace.
The plaintiff says he purchased a 2010 Cadillac SRX in 2012 with headlights that accumulated water and moisture through defective seals, making driving a clear safety hazard. According to the lawsuit, the headlights wear out and fail prematurely because General Motors allegedly ignores customer complaints about moisture in the headlights.
Those complaints typically mention the outlandish cost to fix the headlight failures.
"Passenger light shorted out. Went to the dealer to have the bulb replaced and found out there was water in there and they wanted to charge me $1,300 for a new headlight assembly!" - 2010 Cadillac SRX owner / Conyers, Georgia
The plaintiff says GM knows about the headlight moisture problems and has issued multiple technical service bulletins to dealers and created a customer satisfaction program, but owners say problems continue. Even when the headlights are replaced, those replacement lights are allegedly just as defective and prone to failure than the original lights and assemblies.
SRX owners say the automaker ignores the problems and refuses to order a recall that will permanently fix the headlights.
"Bought the 2011 Cadillac SRX Aug 2015, Oct 2015 passenger headlight goes out had to replace the everything wanted 1500 but talked them down to 700 because only had 42,000 miles. Now Dec 2016 and the left light is out and moisture!!!! GMC needs to do a recall seals are bad !!!" - 2011 Cadillac SRX owner / Easlet, South Carolina
According to the lawsuit, General Motors has a good deal going to keep making money by charging customers money for headlight assemblies that constantly need to be replaced because the lights short-circuit. However, some owners haven't wanted to pay $2,400 to replace two headlights.
"Headlights were filling with water and condensation. Called Cadillac and was told there was nothing they could do. About 3 weeks after that while driving at night left headlight went out, then the right. Could not see and went off road into ditch. Dealer said I would have to buy 2 new lights at $1200.00 each, without labor. Can't afford that, so took headlights out of car. The ballasts were filled with water. Took headlights apart and resealed them with silicone. Replaced ballasts and bulbs. Bought parts off Ebay. Headlights have not leaked since. Cadillac should recall these." - 2010 Cadillac SRX owner / Gansevoort, New York
The Cadillac SRX headlight moisture lawsuit was filed in the U.S. District Court for the Central District of California - Chester Steele v. General Motors, LLC.
The plaintiff is represented by Capstone Law APC.