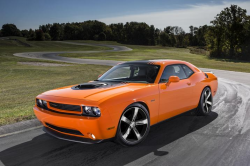 — Fiat Chrysler (FCA US) is recalling more than 442,000 cars and SUVs because the alternators can suddenly fail and cause the vehicles to stall, or the alternators could experience a short-circuit and possibly catch on fire.
Affected by the recall are the following cars and SUVs:
2011-2014 Dodge Challenger
2011-2014 Dodge Charger
2011-2014 Chrysler 300
2011-2014 Dodge Durango
2012-2014 Jeep Grand Cherokee
All the vehicles are equipped with 5.7-liter or 3.6-liter engines and 160, 180 or 220 amp alternators, and all have electro-hydraulic power steering.
Chrysler says a vehicle can experience alternator diode thermal failure due to loads caused by the electro-hydraulic power steering. The alternator won't supply electrical energy to the vehicle once the diodes fail, and it can all occur without warning.
Those failed diodes can also cause a short-circuit that can result in heat, smoke or a fire starting within the alternator.
A driver may see a warning light immediately before the alternator fails and all kinds of systems will be quickly disabled. FCA says a driver could suddenly lose the antilock brake system, electronic stability control, the engine control module and the central body controller.
In some cases, the battery saver light may illuminate on the electronic vehicle information center.
The recall should get underway on August 24, 2017. Chrysler, Dodge and Jeep dealers will inspect the alternators and part numbers, then replace the alternators if needed.
Owners of the recalled cars and SUVs may call FCA at 800-853-1403 and use recall number T36.
CarComplaints.com has owner-reported complaints about the cars and SUVs named in the alternator recall: