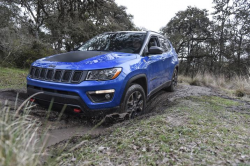 — Fiat Chrysler (FCA US) is recalling at least 8,000 model year 2018 Jeep Compass SUVs to replace their front passenger-side airbags. FCA says about 7,000 of the SUVs are in the hands of U.S. customers, 1,000 are outside the U.S. and others are with dealerships.
Chrysler says a supplier may have manufactured the airbag modules with loose fasteners and some of those modules were used in 2018 Compass SUVs. The automaker believes less than one percent of the SUVs are affected by the loose fasteners that can cause problems with airbag deployments.
FCA isn't aware of any crashes, injuries or claims related to the airbag modules installed on the recalled SUVs that were built from September 5 to November 19, 2017. However, Chrysler says owners should avoid using the front passenger seats until the airbag problems are fixed.
Jeep Compass owners should receive recall notices in December, but with questions the automaker can be reached at 800-853-1403.
The National Highway Traffic Safety Administration hasn't released recall details, but CarComplaints.com will update this page when that happens.
Separately, more 2018 Jeep Compass SUVs are recalled, in addition to 2018 Jeep Cherokees equipped with 2.4-liter engines.
The 357 recalled SUVs are equipped with engines that may have cracked oil pump housings that can cause the pumps to fail. A failed oil pump means a stalled engine, among other problems.
Parts aren't currently available, so Compass and Cherokee owners will receive interim recall notices in December 2017 and will receive second notices once replacement oil pumps are ready.
SUV owners may contact Chrysler at 800-853-1403 and use recall number T65.