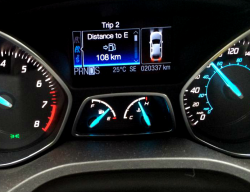 — A Ford antifreeze leak recall is on the radar of the National Highway Traffic Safety Administration (NHTSA) as safety regulators want to know if the recall will only cause consumers to spend money on future engine repairs.
Ford recalled about 230,000 1.6-liter vehicles in North America after 29 fires were caused by overheating due to a lack of antifreeze. The affected vehicles include the following:
2014 Ford Escape
2014-2015 Ford Fiesta ST
2013-2014 Ford Fusion
2013-2015 Ford Transit Connect
Ford said the engine overheats because the antifreeze is gone, cracking the cylinder head and causing pressurized oil leaks. It's the oil that causes a fire once the oil hits hot engine or exhaust parts.
Typically a recall is ordered to fix problems, but Ford's idea for the recall isn't to fix the problem, but to give consumers an easier way to monitor the antifreeze levels.
When the recall was issued, Ford said it would eventually install sensors to monitor coolant levels, allegedly giving drivers a light to warn them when the vehicles need antifreeze. To Ford, this will solve the cracked head and fire risk problems by telling drivers to add coolant before any damage is done.
Because the necessary parts aren't available, Ford said it was mailing affected owners letters reminding them how to check antifreeze levels. The mailing is only a repeat of the same information found in owner's manuals. When dealers have the needed parts, owners will be contacted again to get the vehicles to dealerships for repairs.
Ford says the parts include new sensors to monitor antifreeze levels and new software and hardware that will cause warning lights to illuminate if levels get too low.
The recall left people questioning why Ford is even recalling the vehicles if it won't fix the root cause or causes of the leaking antifreeze. Ford didn't say where the antifreeze is going, but there is definitely a problem somewhere because engines in 2013-2015 vehicles shouldn't be leaking or burning antifreeze.
By throwing the responsibility onto owners, Ford could possibly save a fortune on future engine repairs by claiming it's not the fault of the automaker when drivers don't monitor antifreeze levels.
Then there are regulators from NHTSA who have the task of protecting the the public. Federal regulators may see the only real threat to safety as being the risk of fires, and therefore find the addition of a warning light adequate to negate the fire risk.
CarComplaints.com will update our website when additional details are available.