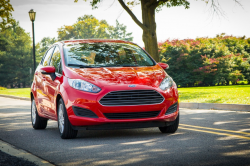 — Ford door latch problems have caused another recall, this time for about 211,000 model year 2014 Ford Fiesta, 2013-2014 Ford Fusion and 2013-2014 Lincoln MKZ vehicles.
The recall is part of an ongoing problem with Ford vehicles that have already caused the recalls of millions of vehicles.
Ford door latch problems are caused by pawl spring tabs that can break in the side door latches. A busted pawl spring tab will prevent a door from being closed or possibly cause the door to open while the vehicle is moving. However, the automaker says it doesn't know of any accidents or injuries related to the door latches.
About 191,432 of the vehicles are in the U.S., nearly 11,000 are in Canada and another 8,191 are in Mexico.
Ford dealers will replace all four side door latches with better latches when the recall begins on May 1, 2017.
If you have concerns about owning a 2014 Ford Fiesta, 2013-2014 Ford Fusion or 2013-2014 Lincoln MKZ, contact Ford at 866-436-7332 and request information about recall number 15S16.
Ford has experienced door latch problems for years that have caused investigations, recalls and lawsuits. Check out any of the below examples.