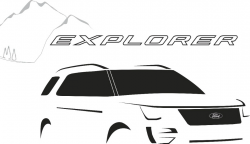 — A Ford carbon monoxide lawsuit alleges 2016-2017 Ford Explorer, 2007-2013 Ford Edge and 2007-2015 Lincoln MKX vehicles have defects that allow exhaust fumes and carbon monoxide to enter the vehicles and sicken occupants.
Plaintiff Mary Boatner says she purchased a 2017 Ford Explorer in July 2017 not knowing the allegedly faulty design caused exhaust fumes and carbon monoxide to enter the cabin.
Boatner says that on July 6 she drove the Explorer from Alabama to Michigan and noticed a strong chemical odor. Ms. Boatner rolled down her windows for fresh air but the odor was still there.
When Ms. Boatner arrived in Michigan, and for several days thereafter, she allegedly experienced restlessness, lack of focus, fatigue, nausea and headaches.
On July 12, Boatner says she learned that 2011-2015 versions of her 2017 Ford Explorers suffered carbon monoxide problems and took her SUV to a Ford dealer.
She says she requested the Ford dealership check for a carbon monoxide leak and repair the problem, but the dealer allegedly refused to accept the Explorer for repair, but did provide Boatner with a Ford document detailing steps for repairing cabin exhaust leaks in 2016-2017 Explorers.
Boatner says her symptoms had not went away and she was admitted to Henry Ford Hospital in Clinton Township, Michigan, for three days and was told her carbon monoxide levels were "high normal."
The lawsuit alleges Ford hasn't repaired the SUV and has not admitted 2016-2017 Ford Explorers contain design flaws or defective exhaust and/or heating and cooling systems.
To date, Boatner claims she continues to suffer from headaches as a result of her exposure to carbon monoxide while driving in her 2017 Ford Explorer.
The lawsuit refers to technical service bulletins (TSBs) that were sent to dealerships explaining what to do if customers complained about exhaust fumes in the cabins.
One bulletin (12-124) told dealers that some "2011-2013 Explorer vehicles may exhibit an exhaust odor in the vehicle with the auxiliary climate control system on. Customers may indicate the odor smells like sulfur."
Another TSB (14-0130) told dealers about similar exhaust problems in 2014-2015 Explorers, but the lawsuit alleges nothing Ford did helped to repair the vehicles.
In addition, the lawsuit alleges Ford has discovered the 2007-2014 Edge and 2007-2015 Lincoln MKX show signs of the same condition for the same reason as the Explorer. Ford has allegedly prepared but not sent bulletins to dealerships that describe the exhaust problems with these vehicles.
In July, the National Highway Traffic Safety Administration upgraded and expanded an investigation of exhaust fumes entering Ford Explorers. The expanded investigation includes about 1.3 million model year 2011-2017 Explorer SUVs.
The Ford Explorer exhaust fumes lawsuit was filed in the U.S. District Court for the Middle District of Alabama - Boatner, et. al., v. Ford Motor Company.
The plaintiff is represented by Beasley, Allen, Crow, Methvin, Portis & Miles, P.C., DiCello Levitt & Casey LLC, Jordan Lewis, P.A., Kelley/Uustal, and the Schreiber Law Firm, P.C.
CarComplaints.com has owner-reported complaints about the Ford Edge, Ford Explorer and Lincoln MKX.