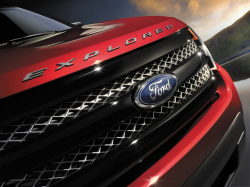 — A Ford Explorer class-action settlement was approved by a court a few months ago, but the settlement was appealed by a Ford owner who objected to the settlement terms.
Affected Ford Explorer owners now wait for a decision from the Eleventh Circuit Court of Appeals, so the settlement won't be effective until the appeal is resolved.
The class-action lawsuit settlement includes all entities and consumers in the U.S. who currently own or lease (or who in the past owned or leased) a 2011-2015 Ford Explorer that was sold or leased in the U.S.
The class-action lawsuit has been a legal soap opera that started in 2014 when Angela Sanchez-Knutson claimed her 2013 Explorer leaked exhaust odors into the cabin when the SUV was accelerated hard and while the air conditioning was on recirculate.
The original class-action lawsuit was filed on behalf of all Florida 2011-2013 Explorer owners and lessees, but the suit was later expanded to model years 2011-2015 on a nationwide basis.
The Florida court initially denied Ford's motion to dismiss, then granted in part Ford's motion to dismiss Sanchez-Knutson's second amended complaint. Following that, the judge granted in part Sanchez-Knutson's motion for class-action certification, but denied in part Ford's motions and further ruled on other pretrial motions.
The plaintiffs and Ford had two formal mediations and several informal ones. The final informal negotiation was less than 72 hours before the trial was set to begin and the settlement was preliminarily approved on November 21, 2016, but even that was later amended.
As part of the preliminary approval, a total of 1,210,675 class-action notices were mailed to owners and lessees in March 2017, but at least three persons, represented by two sets of law firms, filed objections to the settlement and approximately 86 owners (representing 399 Ford Explorers) have opted out.
The events in Florida kicked off Ford Explorer exhaust lawsuits just about everywhere, including Ohio, Louisiana, California, New York, North Carolina, Texas and New Jersey. However, those never really made it anywhere, as can be seen in a suit filed in Illinois that was dismissed by the judge over a lack of evidence.
The approved settlement requires Ford to issue a technical service bulletin (TSB) to update previous bulletins issued about Explorer exhaust odors. The TSB includes two service phases, one in which dealers will recalibrate the air conditioning system and seal any gaps in the passenger compartments.
Secondly, if Ford and the dealer determines the air conditioning and sealing job didn't get rid of exhaust odors, additional services may be performed, including installation of a modified exhaust system. In addition, Ford may issue a future exhaust odor TSB that supersedes the current TSB, but the automaker is not required to do that.
Based on the settlement agreement in Sanchez-Knutson v. Ford Motor Company, Explorer owners whose warranties have expired but who can prove they attempted to fix a diagnosed exhaust smell at an authorized Ford dealer during the warranty period will be entitled to a subsidized post-warranty repair if they are still experiencing exhaust odors.
The maximum permitted reimbursement for this repair is $175 for the first half of the TSB and $500 for the second half of the TSB.
Owners will have the later of 4 years/48,000 miles after their vehicle was placed into service or 60 days beyond the effective date of the settlement to take their vehicles to an authorized Ford dealer for repair. The settlement provides reimbursement for up to two such repairs.
For Explorer owners and lessees who did not complain about exhaust smells within warranty but who are now experiencing exhaust odors will be entitled to a subsidized post-warranty repair with a reimbursement capped at $175 for each of the two repairs described in the TSB.
Owners will have the later of 60 days after the effective date of settlement or 60 days after the expiration of the warranty period to get their SUVs to a Ford dealer for repair. The settlement provides reimbursement for up to two such repairs.
But what if all of that still leaves owners with exhaust odors? Those who received an exhaust odor repair under warranty and are still experiencing exhaust odors after the repairs will have the right to a free appellate procedure.
They will be eligible to present their claim before a mediator/arbitrator selected by the Better Business Bureau and will be entitled to request all of their unreimbursed TSB repair costs at the BBB, or possibly a buyback of their Explorer.
As part of the settlement agreement, Ford has waived certain statute of limitations defenses and its defense that the exhaust odor is allegedly caused by a design defect which is not covered by its warranty.
Ford denies all allegations of wrongdoing but agreed to settle the lawsuit to put an end to expensive and time-consuming litigation.
Based on court documents, attorneys for the owners and lessees may receive up to $5 million in attorneys' fees and expenses.
As mentioned earlier, the settlement will not become effective until the appeal is fully resolve, so claim forms aren't yet available. Affected Explorer owners with questions may call 855-581-1279.
The Ford Explorer exhaust fumes lawsuit was filed in the U.S. District Court for the Southern District of Florida - Sanchez-Knutson v. Ford Motor Company.
The plaintiffs are represented by Jordan Lewis, P.A., and Kelley Uustal PLC.