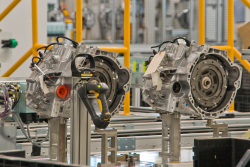 — A Ford PowerShift transmission "mass-action" lawsuit has been filed after Ford agreed to settle a separate class-action lawsuit involving 1.5 million 2011-2016 Ford Fiesta and 2012-2016 Ford Focus cars.
The mass-action lawsuit is for Fiesta and Focus owners who don't believe the settlement terms are enough compensation concerning the automatic transmissions.
The Ford PowerShift transmission lawsuit the automaker agreed to settle came about after years of complaints about transmissions jerking and shuddering, while many owners report delayed acceleration and deceleration. In some instances, drivers report unintended acceleration when stopped at traffic lights and other times the cars roll backward on an incline.
Any Fiesta or Focus owner or lessee who has not filed a lawsuit against Ford or opted out of Ford's settlement agreement prior to September 5, 2017, will automatically be bound to the terms of Ford's class-action settlement.
According to the PowerShift mass-action, Ford owners and lessees should decline the settlement agreement because of how strict Ford's settlement terms are to consumers.
According to the class-action agreement, Fiesta and Focus owners must have at least three transmission part replacement to qualify for even $200. And owners can indeed qualify for "up to $2,325," but only after at least eight transmission part replacements occurring on eight or more Ford dealership visits.
Attorneys who filed the mass-action lawsuit say less than one-percent of their clients received eight or more transmission part replacements and would never qualify for the $2,325.
As a mass-action, each client's claim about the PowerShift transmission is different and every award is based on the unique circumstances of each owner or lessee. In addition, an attorney won't accept an award unless it's approved by the client.
Attorneys who filed the mass action lawsuit say Ford owners and lessees can try to win the maximum allowable compensation available under the law and seek possible full buybacks of the cars. And although a judge must approve them, clients can pursue out-of-pocket expenses such as rental car fees, lost wages and inspection fees related to any PowerShift transmission problems.
As for attorney's fees, Ford must pay those fees and nothing can be deducted from the award received by a client.
Attorneys handling the Ford PowerShift mass-action say nearly 10,000 owners and lessees have declined Ford's settlement terms and joined the mass-action lawsuit.
Ford Fiesta and Focus owners interested in learning more about the Ford PowerShift transmission mass-action lawsuit should visit FordTransmissionProblems.com.