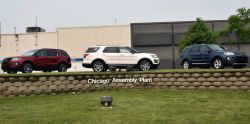 — Ford is recalling more than 202,000 model year 2016 Ford Explorer SUVs and Ford F-150 trucks because the front power seat cushions can loosen and cause problems in a crash.
About 177,000 of the recalled vehicles are in the U.S., another 22,620 are in Canada and nearly 2,400 are recalled in Mexico.
Ford says upper left-hand pivot bolts can loosen and fall out of the front power seat adjusters, leaving the front seat cushions to move around in a crash. However, the automaker says it's unaware of any crashes or injuries related to the loose pivot bolts.
The recalled 2016 Ford F-150 trucks were built in Michigan and Kansas City between January 22, 2016, and April 19, 2016, and the recalled 2016 Ford Explorers were built in Chicago during the same time period.
Ford dealers will handle the recall repairs in two ways. Dealers will measure the torque of the power seat pivot link bolt and if the bolt passes inspection, dealers will remove and clean the bolt, apply new threadlock and reinstall the bolt using the correct torque.
However, if the bolt fails inspection, Ford technicians will apply new threadlock and the bolt will be reinstalled as an interim repair until the final repair is available. The final repair will have dealers replacing the lift links with new bushings and fasteners.
Owners of 2016 Ford Explorer SUVs and Ford F-150 trucks may contact Ford at 866-436-7332 and use reference number 17S40.
CarComplaints.com has complaints about Ford Explorer SUVs and Ford F-150 trucks.