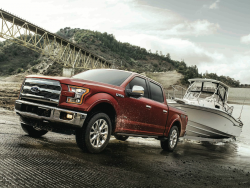 — Ford is recalling about 935 model year 2017 Ford F-150 and Mustang vehicles because the passenger airbag inflators can explode.
As expected, Takata is involved in the problem, but the dangerous inflators are supplied by ARC Automotive, a company that is the focus of a federal investigation.
Takata uses the inflators in airbag modules and contacted Ford about an abnormal deployment of a passenger-side ARC airbag inflator.
The ARC inflator can explode when the front passenger airbag deploys, sending metal fragments into vehicle occupants. Takata knows all too well the consequences of ruptured inflators as exploding airbags finally caused the company to file bankruptcy.
The recalled 2017 Ford F-150 trucks were built in Kansas City between July 20, 2017, and August 1, 2017, and the 2017 Ford Mustangs were built in Michigan between July 20, 2017, and August 1, 2017.
Out of the 935 recalled vehicles, about 650 are in the U.S., an additional 279 are in Canada and six are sitting in Mexico.
Ford dealers will need to replace the passenger airbag modules once the recall begins October 9, 2017.
Affected Mustang and F-150 owners may call Ford at 866-436-7332 and refer to recall number 17S26.