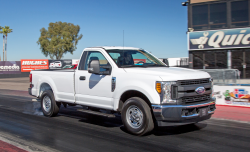 — Ford is recalling about 52,600 of its 2017 Ford F-250 gasoline-powered 6.2-liter trucks to fix problems that can cause the trucks to roll away and hit anything the trucks want to hit.
Ford says the F-250 trucks run on gasoline (not diesel) and can roll away even when the trucks are in PARK.
The automaker blames the rollaway risk on a damaged park rod actuating plate that may not move the automatic transmission into PARK. Although the trucks can move with the gear shifter indicating PARK, Ford says no accidents or injuries have been reported related to the F-250 trucks.
However, the parking brake should always be applied after shifting the truck into PARK.
All the recalled 2017 F-250 trucks were built in Kentucky between October 9, 2015, and March 30, 2017.
Ford says about 48,421 of the trucks are in the U.S. and another 4,143 are in Canada.
Ford dealers will inspect the park rod actuating plate and replace it, if necessary, but the automaker doesn't have the needed parts. Interim notices informing truck owners of the risk are expected to be mailed in April 2017. Owners will receive a second notice when replacement parts become available.
Ford F-250 owners with questions should call Ford at 866-436-7332 and ask about recall number 17C06.
Read complaints about Ford F-250 trucks and other Ford models.