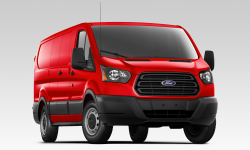 — Don't park your 2015-2017 Ford Transit van indoors or in a location where fire could harm buildings, people or animals, as two reports from Canada suggest the vans can burn from damage to wiring related to the trailer tow modules.
Ford says all kinds of features can fail on 73,400 model year 2015-2017 Ford Transit vans equipped with trailer tow modules that can be harmed by water intruding into the modules and connectors. The water will damage the trailer tow modules and corrode the wiring, leaving drivers with all sorts of problems.
Symptoms of a problem include turn signals that flash too quickly, a loss of the instrument cluster display, losing the heater and air conditioning controls and losing the radios, screens and all multimedia functions.
If that's not enough to keep you busy, once enough water has intruded and corroded the wiring, there can be an electrical short that will cause the seat belt pretensioners to deploy, forcing the seat belts to immediately tighten without warning.
Ford says even with the van parked and the ignition turned off, the electrical short can cause a burning smell and possibly a fire.
The threat of fire is very real as two reports came in from Canada about Transit vans catching on fire, and Ford believes the fires are linked to the modules. However, Ford is unaware of any crashes or injuries related to the modules.
Out of the 73,400 recalled Transit vans, about 65,206 are in the U.S. and 8,365 are in Canada, all built in Kansas City between February 3, 2014, and August 2, 2017.
Interim notices informing owners of the safety risk are expected to be mailed in November 2017. Owners will receive second notices when the remedy becomes available, but concerned owners can take the Transit vans to dealerships and have the trailer modules disabled until final repairs are made.
For the final repair, dealers will add drainage holes to the driver's door stepwells and install fuses into the wiring harnesses, but until then do not park your van indoors.
If you own a 2015-2017 Ford Transit and have questions about the recall, call the automaker at 866-436-7332 and ask about recall number 17S34.