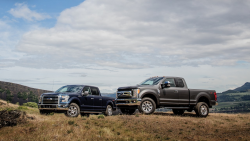 — Ford is recalling 551 model year 2015-2017 Ford F-150 and 2017 F-250 to F-550 trucks equipped with Ford aftermarket chrome exterior door handle covers.
The covers were sold as accessories from Ford dealers but don't pass federal safety standards. Ford says the chrome covers can experience inertial loads that could cause the doors to unlatch if the trucks are hit from the side.
Although the doors could open in a crash, the automaker says it doesn't know of any crashes or injuries related to the handles.
Ford investigated and found 551 kits were sold through Ford dealers, so those dealers will search their records and contact customers who bought the kits. Dealer service departments will also be notified to watch for vehicles brought in that have the kits installed.
About 247 of the trucks are in the U.S. and 304 are in Canada. Customers won't get replacement covers but will get reimbursed for the cost of the covers and labor.
If you believe the recall affects your truck and you have questions, call Ford at 866-436-7332 and ask about recall number 17C09.
CarComplaints.com has complaints about the Ford F-150, Ford F-250 and Ford F-550.