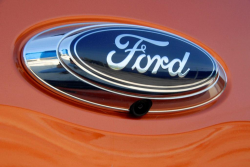 — A Ford Ranger lawsuit has been overturned after a West Virginia couple was originally awarded $3 million over a crash the couple blames on a defective throttle and speed control system.
The Ford lawsuit was brought by Howard and Nancy Nease alleging Howard Nease suffered serious injuries in an accident caused by a defect in the speed control system of his 2001 Ford Ranger truck.
According to the lawsuit, Mr. Nease was driving his 2001 Ford Ranger in November 2012 on U.S. Route 60 in St. Albans, West Virginia. Nease says he was traveling 45-50 mph when he realized the Ranger wouldn't slow down even though he wasn't touching the accelerator pedal.
Nease says he applied the brakes but the truck kept going and left the plaintiff no choice but to drive off the road to avoid hitting anyone. The Ranger went over a curb and crashed into a brick building and even after being stopped by the building, the truck tires kept spinning another 30 seconds until the engine died.
Attorneys for Mr. Nease called an expert witness, Samuel Sero, who testified the speed control cable in the Ranger was susceptible to getting stuck while the throttle was in the open position. Sero testified the speed control cable is linked to the throttle and once stuck in the open position, the driver couldn't slow down the truck.
According to the plaintiff, this is exactly what happened to him, and a West Virginia jury agreed and awarded Nease more than $3 million in damages.
Ford says the crash occurred because Mr. Nease had his foot on the gas pedal instead of the brake pedal. The automaker argued the testimony of Samuel Sero should not have been allowed and prior incidents involving Ford vehicles shouldn't have been admitted as evidence.
Ford took those arguments to the district court but all post-trial motions by Ford were denied. The automaker appealed to the 4th U.S. Circuit Court of Appeals that ruled Sero's testimony should not have been admissible because it was not supported by any evidence such as "test data or relevant literature in the field."
The court ruled that "without any other expert testimony to establish the 2001 Ford Ranger was defectively designed and that there were safer alternative designs available that a reasonably prudent manufacturer would have adopted, the Neases cannot prove their case under West Virginia law."
Howard Nease is represented by Bucci, Bailey & Javins, L.C., Tiano O'Dell, PLLC, and Edgar F. "Hike" Heiskell, III.
CarComplaints.com has complaints about the 2001 Ford Ranger and other model years of Ford Ranger trucks.