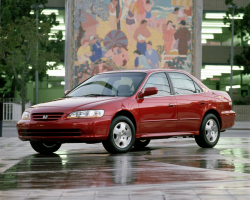 — Another person has been killed from an exploding Takata airbag in a Honda car, this time a 2001 Honda Accord under less-than-normal circumstances. It's the 11th confirmed fatality in a Honda vehicle in the U.S., but this time the airbag didn't explode due to a crash.
Although many of the deaths and injuries have occurred in minor collisions, the latest casualty was caused by someone working inside the Accord.
On June 18, 2016, at a residence in Hialeah, Florida, the victim was working with a hammer inside the car with the ignition switch turned on. Somehow the Takata airbag was triggered, causing the metal airbag inflator to explode. The victim died the following day, but Honda still isn't sure if the person was killed by the hammer or directly by the exploding metal inflator.
Honda says it may never know the answer, but either way, the Takata airbag did explode when it shouldn't have.
Honda says it mailed 12 recall notices over the course of seven years to registered owners of the affected 2001 Accord prior to the 2016 death. The automaker says the Accord was equipped with a defective driver-side Takata inflator, but the car was never repaired.
The Accord had a dangerous "Alpha" inflator that Honda has targeted for high-priority replacement due to the age of the inflators, and even more so based on the car being used in the high heat and humid conditions of Florida.
Honda vehicles equipped with Alpha inflators include the following:
2001-2002 Honda Accord
2002-2003 Acura 3.2TL
2001-2002 Honda Civic
2003 Acura 3.2CL
2002 Honda CR-V
2002 Honda Odyssey
2003 Honda Pilot
Honda says any remaining vehicles with Alpha inflators need repairs now, and the automaker has plenty of replacement inflators made by a company other than Takata.
As for Takata, the company recently said in court there is no way it can pay the billions it owes to automakers to cover expenses for more than 120 million recalled vehicles worldwide. The debt caused Takata to file for bankruptcy protection and turn over most of its assets to a company called Key Safety Systems.